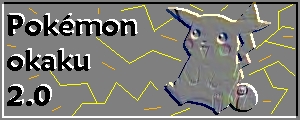 version 3.0 under contruction
UPDATES:
8/8/99
NOTICE: Alright. I said that Otaku 3.0 would be up by July... Well... I lied. Okay, I didn't lie exactly. I'm working hard on the new layout and you just have to give me some more time. This is really hard work with. Plus, I have other webpages to work on now that are, (I'm sorry to say,) more interesting than this one. I have to devote a lot of time to looking up information for this webpage, and I hope you all can wait just a little bit longer... Maybe by the winter I'll have it up. I'm so sorry...
For those of you who missed out, this is why I restarted this page: HERE'S WHY!
---
Welcome, Pokémaniacs!! This is Pokémon Otaku, and it dedicated to the best Game Boy game EVER! POKéMON!! I redecorated. Do you like it? The wallpaper I had was WAY too big, and it slowed down the loading. The menu pictures may take a while to load, but that's okay. I think it makes the page look better. E-Mail me with your comments!